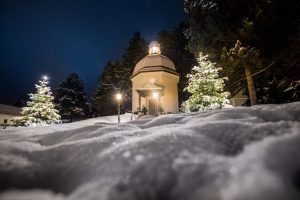 An Austrian carol has an astonishing cultural history.
It was first sung 200 years ago on Christmas Eve 1818.
Bing Crosby's version is one of the top selling singles ever.
Initially published in a collection of Four Genuine Tyrolean Songs in 1833.
Singers of every background, culture, colour and musical genre have performed it.
Amazingly, it was sung by combatants of both sides in German, French and English during a halt in hostilities during World War One, when they also played football.
It was declared by UNESCO in 2011 to be an intangible cultural heritage, so there!
The Story of the Song
The lyrics were written by a young priest, Father Joseph Mohr in 1816.  The tune was composed by Franz Xaver Gruber for the Christmas Eve service two years later at St Nicholas Parish, Oberndorf.  The actual church, seen here has long gone, though a new attractive Silent Night chapel (pictured at the top) is on the site to mark this creation.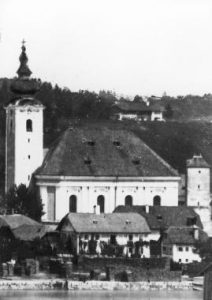 Remarkably this melody/lyric combination connects with people of all ages,  eras and cultures. Over time this locally produced Christmas hymn morphed into a global sensation.
The words were translated into English by Miss Emily Elliott of Brighton in 1858. It was heard in the early years by the Russian, Austrian and Prussian leaders.  Today's version is the work of an American bishop John Freeman Young.
When did you first hear it or sing it?
Silent Night is still a vital part of Christmas in many countries, so listen out for it or even better try singing it this year.
Austria is still a top musical nation
Austria is still renowned for music, particularly during the festive season  in Vienna. Renditions of the carol from Luciano Pavarotti,  Diana Ross, Tony Bennett and Sarah Brightman can be accessed on the internet. However  this choir version might just bring a smile to the faces of the originators, Joseph and Franz.