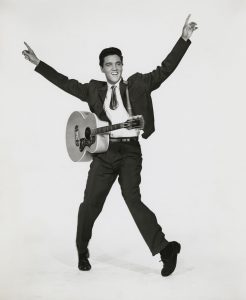 What is your favourite Elvis song? What colourful outfit did he wear while singing it? How did he move to the rhythms?
Presley appeared like a bright shooting star in the early 1950's.  His winning act included dance with extraordinary hip gyrations as well as a strong, distinctive, melodic voice making a highly flammable combination.  He sang and moved in a style that had, until then, been solely associated with black performers.  The Black community for centuries in Africa, then America, had combined music and movement in exciting performances which had been praised or mocked but seldom followed in the US.  Elvis broke new ground through dressing, singing and dancing like a young black man.  This had a massive impact and was copied by other white artists.
The first ever million selling album in the US was called Elvis Presley, released in March 1956 and combined what the record executive Steve Sholes had to hand in terms of recordings. He believed Presley's star would follow a predicable arc and descend quickly into a black hole.  The album includes rock songs, country and a Rodgers and Hart standard, 'Blue Moon'; such variety was maintained throughout Presley's stellar career.  Ed Sullivan who hosted the most successful tv show in America had vowed never to have Presley on his show but on 9 September 1956 82% of the tv audience, that is 60 million viewers, tuned in. The following January Presley returned to Ed Sullivan's Show but could be shown only from the waist up for fear of incendiary consequences among the teen population.  There is an industry today making music videos on the back of the impact he made on those small fuzzy black and white screens.  Further, if Louis Armstrong transformed popular singing with his innovative vocal style in the late 1920's, then Elvis transcended one segment of the colour issue.  He revealed to a larger audience that the style, singing and dancing of the black community had tremendous power, even when performed by a white man.
He was the king of rock and roll.
Clip of Elvis Presley's January 1957 performance.