Roll Over Beethoven will surely return to the charts soon. The hit was written by Chuck Berry, covered by the Beatles, ELO and many others.  It reveals the desire for rhythm and blues to replace classical music. Allegedly, it started with Chuck's frustration.  He was vying with his sister to get access to their family piano while she played classical pieces on it.  The song title is directed towards Ludwig van Beethoven to roll over in his grave. It demands his premier position to birth a new exciting genre of music.  Roll Over Beethoven is in the top 100 on at least one list of the great singles.
Beethoven just keeps rolling along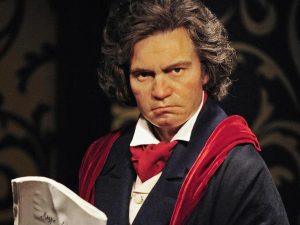 The masterly composer need not worry; his treasure trove is played daily on every continent. Amazingly, Ludwig was profoundly deaf during his most celebrated phase of creativity from 1814 until his death.  At the end of the premiere of his majestic Ninth Symphony, he had to be turned around by a friend to view the tumultuous response from the audience because he couldn't hear it.  He continued composing some of the world's most beautiful music.
Beethoven still brings pleasure to children
This clip reveals how Beethoven's stunning skills still surprise and delight people on the streets of Sabadell, Catalonia, Spain.